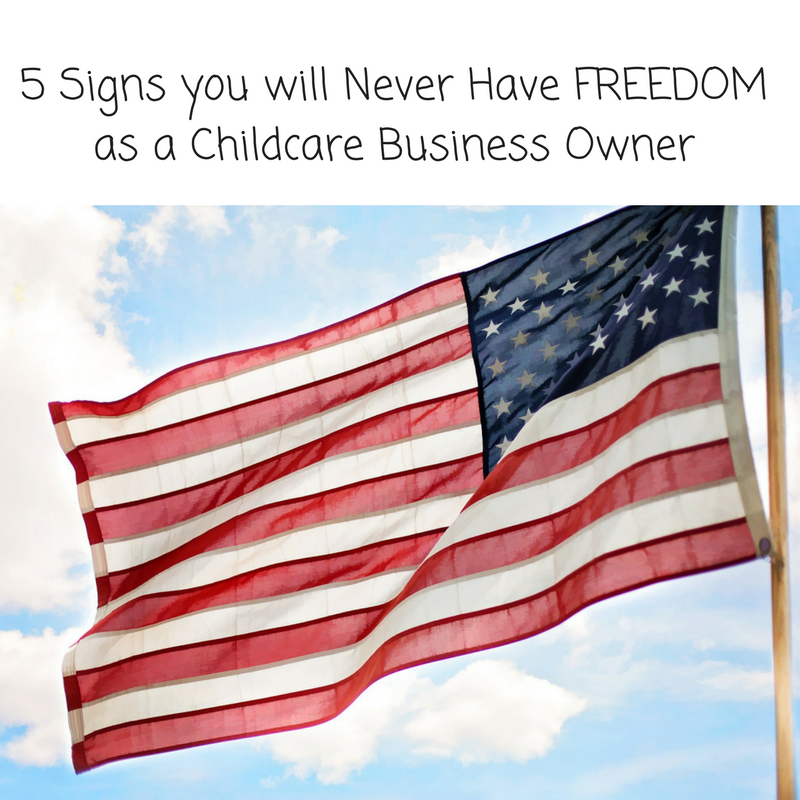 I remember when I first opened up my center! I was so passionate about working with children and families, and having a successful childcare business! I KNEW that if I worked hard enough, I would eventually be able to live a life of FREEDOM as a entrepreneur and business owner! About two years into running my daycare business, I noticed that the workload was not getting easier, but harder. Trying to really understand and get down childcare management, was no joke! I transitioned from a Family Home Provider into a licensed childcare center, and instead of my days getting shorter, they got longer. This was not what I had in mind when I started my childcare business. And if you are true entrepreneur, this is not what you have in mind either!


All Entrepreneurs want FREEDOM! This FREEDOM means a lot of things, to a lot of different people. But the one thing I know is universal is FREEDOM to be that family person you want to be, freedom to make the money you want to make, and FREEDOM to have your dream daycare business!
Here in the states, the 4th of July is the day that has been set aside to celebrate our country's independence! So I thought it would be fitting to give you some tips and signs on five signs you will NEVER be FREE as a Childcare Business Owner. Get ready for some real talk ahead!
Sign 1: Your Daycare can not run without you

So let me start with asking you a question? If you were to leave your daycare program for one full week, could it run without you? If you answered No to this. You will never live that life of freedom as childcare business owner. Stop being naive to think that you can set up a childcare business that requires you to be there for everything to run smoothly. You are fooling yourself! Start setting up systems in place that can run without you. These systems should be automatic and you should set this up so tight, that someone off the street could understand how to do them by simply reading instructions. This is called a bullet proof operations Manual. GET ONE!
Oh, and for my Home Providers who is reading this! STOP saying that you can't find someone to come into your home, while you are away that you can trust. If you want me to be honest. I'M NOT BUYING IT!! I get it, but I'm not buying it! Here is what I want to tell you about that: Most states require you to have a substitute, or someone who you can call to run your home daycare business in case of an emergency. Why not train this person(s) on how to run your business while your away for a short time. I mean, yes, you can close down, but that means you may only get one week a year, and I'm sorry, but one week of vacation a year, is the same that you would get if you worked for someone else. I could go on and on, but I will just stop there!


Sign 2: You have no System to Develop Staff
You hire these teachers in, but THAT'S IT! You don't work with them to ensure they are carrying out YOUR VISION for your center. You may train them in the first few days, but then after that, you throw them in a classroom and expect them to pick up on things. Your job as a Owner with employees is to be a LEADER not a BOSS!! Remember that Bosses make rules and LEADERS MAKE CHANGE! If you are true LEADER, you will be making real changes in your childcare business and ensuring you have a system and plan to DEVELOP your staff. THE DEVELOPMENT OF YOUR STAFF EQUALS THE DEVELOPMENT OF YOU AS A OWNER.
Sign 3: You have no plan for Financial Growth
Now this is a BIG ONE, and one I know is being taken too lightly in the childcare business. YES! MONEY makes the world go around. And it also ensures you have a childcare business that can stand on it's own two feet. If you are not growing your bank account and looking at it, like a money tree, I hate to be the bearer of bad news, but you will remain STUCK in one place. And that place is place that does not allow you to put back in your center and invest in other things, so that you are not putting all your eggs in one basket. This kind of thinking, will not allow you to hire in that help that you need, so you don't have to come in all the time, because you can't afford it. Financial growth is the key to building a long lasting business. Start putting a engine in place that allows you to GROW THAT BANK ACCOUNT!
Sign 4: You stay too busy on "Busy Work" and not "Purpose Driven" Work
Everyday you come into your program, you spend more time creating flyes, tweaking lesson plans, tinkering around with your website, organizing your calendar, revising your handbooks, etc... This my friend is BUSY WORK!! And busy work does that. It just keeps you BUSY!! Now trust me! I know these things have to get done, but WHY ARE YOU DOING THEM? How come you can't let someone else handle the busy work, while you spend time working on PURPOSE DRIVEN WORK? Purpose driven work is working on things like automating your marketing system, so that traffic is driven to your website daily and your phones are ringing off the hook. Or it's finding ways to automate your lesson planning procedures, flyers and whatever else you are working on that is busy work. Purpose driven work is coming in and spending all day on managing your finances to see where you can cut costs, how you can add on other streams of income, and looking at your numbers to understand trends and future forecasting. Essentially, purpose driven work is work that ensure you are ALWAYS IN CONTROL!
Sign 5: You fail to delegate
I remember there was a time, that I simply did not want anyones help with running my daycare center. It was hard for me to LET GO and to let someone else take over a project or task for me. I was okay with doing this in the classroom and on the floor, but when it came to my office work. OH NO!! Nobody is touching this! Well I soon found out, that was stunting the growth of my childcare business. There is so much power in DELEGATION, because when you delegate, it is basically like cloning yourself. And the more you delegate, the more of yourself you are able to have. And when you are able to have more of you, where you are not spread out so thin, with so much work to do, is when you are able to "Run it Like a CEO!"
In conclusion, what I want you to take away from this blog post is that you are running one of two kinds of businesses. You are either running a TRUE BUSINESS that gives you TRUE FREEDOM. Or all you have done is created a J.O.B. for yourself. And if you don't get things in order, you will NEVER leave a TRUE LIFE OF FREEDOM as a Childcare Business Owner. This vicious cycle you are on, will never end!
If you are wanting my help with helping you run a childcare business that offers so much joy and freedom, that allows you to not only enrich the lives of children and families, but your own life, I now have spots available in my amazing one on one coaching program! Click here to book a complimentary call with me, so we can discuss where you are at, where you want to be, and what it would like like working together. Use Code ONEONE17, to ensure you are not charged any booking fees! Please be aware that this code is only good one time per user.