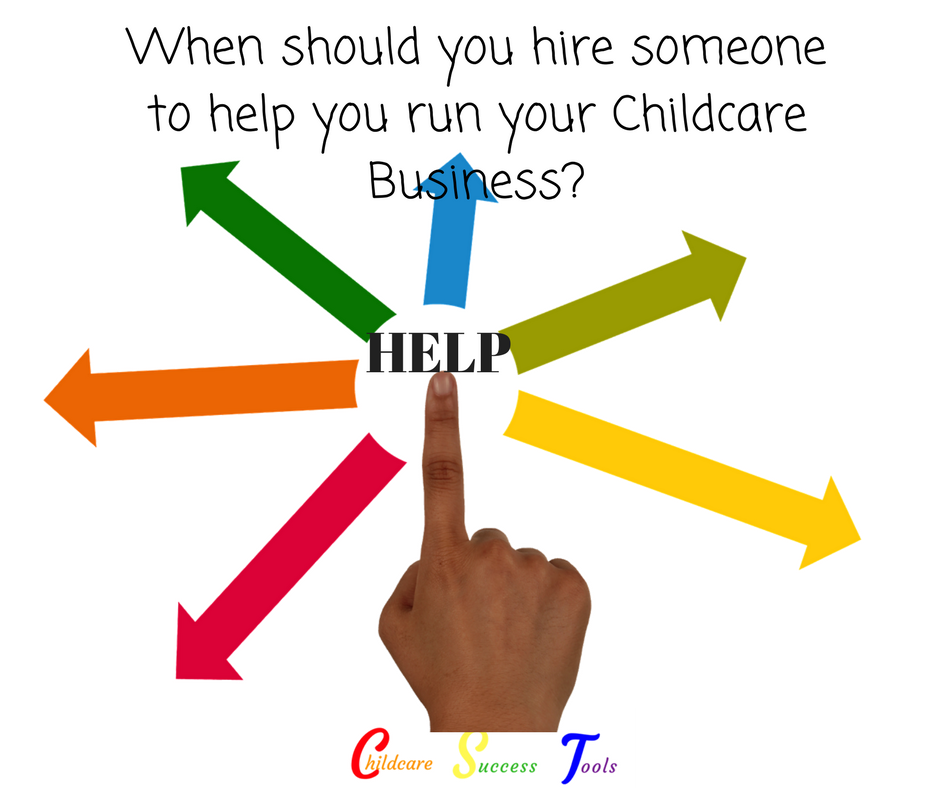 As I help guide you through all things CHILDCARE BUSINESS AUTOMATIONS for this series on childcare Business Automations, I really want you to think of all the ways you can automate your childcare center or family childcare home.
One form of Automation is DELEGATION and getting help!
I remember really well when I KNEW it was time to get help. And when I say help, I mean someone who was going to relieve me of having to overwork myself. In fact, when it was time to hire someone knew to add to my team, I could literally FEEL it. The demands of my responsibilities were so great, I would feel it physically because I was working way too many hours, not getting sleep, or my staff would feel it, in the overwhelm of having too many children in the classroom because of the growth of my enrollment numbers.
And although I would FEEL IT in so many areas, sometimes I questioned when it was the right time to hire in someone to help. I remember asking the question several times when I ran my daycare home and when I ran a licensed center.
So how do YOU know when it's time to hire in some help? Well there are several ways to know, but there are two main things I would always consider before I hired in help that I am going to help you think about.
1). Does hiring in someone reflect my end goals for my Personal Life?
The one thing you have to consider is that hiring in help is actually a way to AUTOMATE your childcare business. Remember Childcare Business Automations, allows you to rely on other things so you don't have to be there to always run your business. For me, I always had a goal for my personal life to only work a certain amount of hours a week. And if I was working more than what my goal was, this was a good sign that I could use some help. Whether it was hiring someone to come in and help me as a part-time assistant when I ran my home daycare, or whether it was hiring in a Assistant Director when I ran my center. Overworking myself was NON-NEGOTIABLE for me. My family was more important to me than a business, and if hiring someone in to help me was going to ensure I was able to get home at a certain time, so I could devote my time to my family, this is what I did.
2). Does hiring in someone reflect my end goal for my Business Visions?
Alongside my Personal goals, were my childcare business goals. I wanted my daycare business to run like a machine! And I knew that a machine needs manpower to run efficiently. And I also understood that me by myself could not be that manpower. I needed other people to help me. So for me, this made if very easy for me to make a decision on when to hire someone. I needed manpower to ensure that I was able to focus on all the areas that my business NEEDED ME TO FOCUS ON.

See there are many areas of your business. And some of those areas ONLY YOU can handle. But for those other areas, you can delegate to someone else, and let them do it for you.
Delegation is The answer! You have to learn to DELEGATE. Delegation is a form of AUTOMATION that allows MANPOWER! And if you are going to run a successful childcare business that doesn't burn you out, you are going to need MANPOWER!
In Conclusion, I want you to think about what are your overall goals for you personally and then be sure to work your childcare business goals AROUND your personal ones!
Remember: How can run a successful business if you can't run your personal life successfully! If you're not ensuring you are taking care of you, there is no way you are going to be able to POUR INTO those children and families that rely on you everyday to be there!
Do you feel like you are in a position where you need to hire in some help?