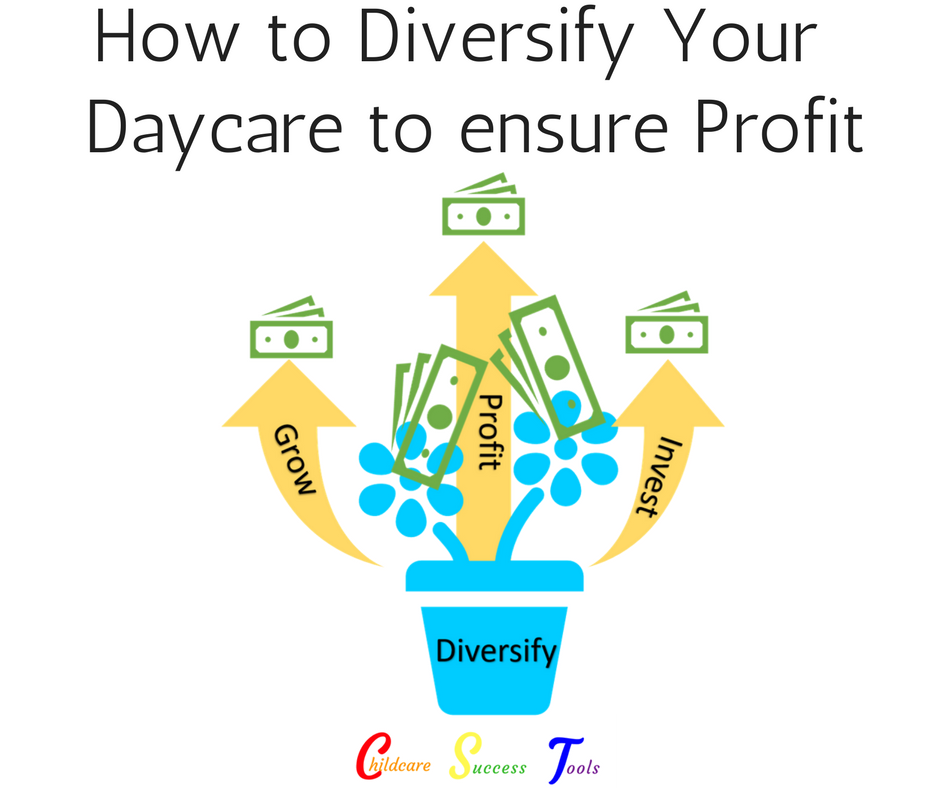 Well here we are at the end of the "The Month of Profit" Series! This month, we have covered all things daycare budgeting. From "Is your childcare business set up to profit", "Understanding the numbers we should know at all times", and "Having a budgeting system in place".
So once you get all these things in place, and your daycare business begins to actually profit, now it's time to start learning how to diversify, and how to start making your money work for you, instead of you working for it!
The amazing thing about learning daycare budgeting, is that once you really get in pat down, and you start profiting, the sky's the limit for you not only in your business but your personal life! This is when the game changes for you, and this is what I want for you in your life.
So let's dive in, and let me tell you ways you can diversify your childcare business so that you can start profiting!
When I think of the word diversify in business, the first thing that comes to my mind is celebrities! I know this sound strange to bring up for us in the childcare business industry, but there is so much we can learn from our favorite celebrities when it comes to diversifying. They can diversify themselves, and their brand like nobody's business.
So here are two easy ways how you can too, in your childcare business, with the profits you are generating.
1). Find Other streams of Revenue:
So one easy way to bring in another stream of income for yourself is to invest in rental property. You can find a really nice house, or apartment building to purchase, and use this to rent out to families of your program. Just think about it, your childcare business already has the perfect clientele you need which are young families. And these young families need a place to live right? The amazing thing about rental property, is if you own the property, the money you generate from tenants is all yours! Now I will tell you, it's not as easy as it sounds. This would basically be a whole another business venture. You will have to ensure that as a landlord you have the proper contracts in place, insurance, and someone to manage the property if you are not going to do it yourself. But we all know that the real estate world is a great way to make a good living. And is also a good way that really successful business people diversify their companies.
(This post contains affiliate links to help with the running of this blog)

2). Invest your Money:
Have you ever heard that saying that money doesn't grow on trees. Well when you invest your money the right way, it may not grow on a tree, but it will sure grow LIKE a tree! You can invest some of your profit into a non-tax account, which is an account that does not get taxed and has a good interests rate. So as an example:
Let's say you are able to invest 20,000 a year into a non-taxed investment account that draws 12% interests each year. I pulled these numbers into an excel to ensure accurate calculation, and here is what you would have in just 5 years of investing $20,000 each year at a 12% interests annually for 5 years.

YES!! You are seeing this right if you see that within 5 years on an investment plan like this, you will be the proud owner of $142,303.78!!
Now, I know you are probally thinking, I would never have that kind of money in my possession! Well I am here to tell you right up front, that if you start planning better financially starting TODAY for your childcare business, these numbers you see here are very real and possible! Trust me! Don't underestimate the power of numbers and budgeting your business!

I really hope that this series on Childcare Business Budgeting really challenge your thinking and mindset for learning how to budget your childcare business.
It can be overwhelming, but once you put the right systems in place, you will see that learning how to make your childcare business financially healthy will really take your business to the next level! Reach for the Stars and don't be afraid to shine once you make it! Because I know you will!
If you are wanting me to help you dig deeper into childcare business budgeting, check out my Childcare Business Budgeting Course Made Easy Course!
Also, be sure to check out the other blog posts in this series:
Do you have a Daycare Budgeting System?
Is your Childcare Business Set up to Profit?
The Numbers you Must know at all times!