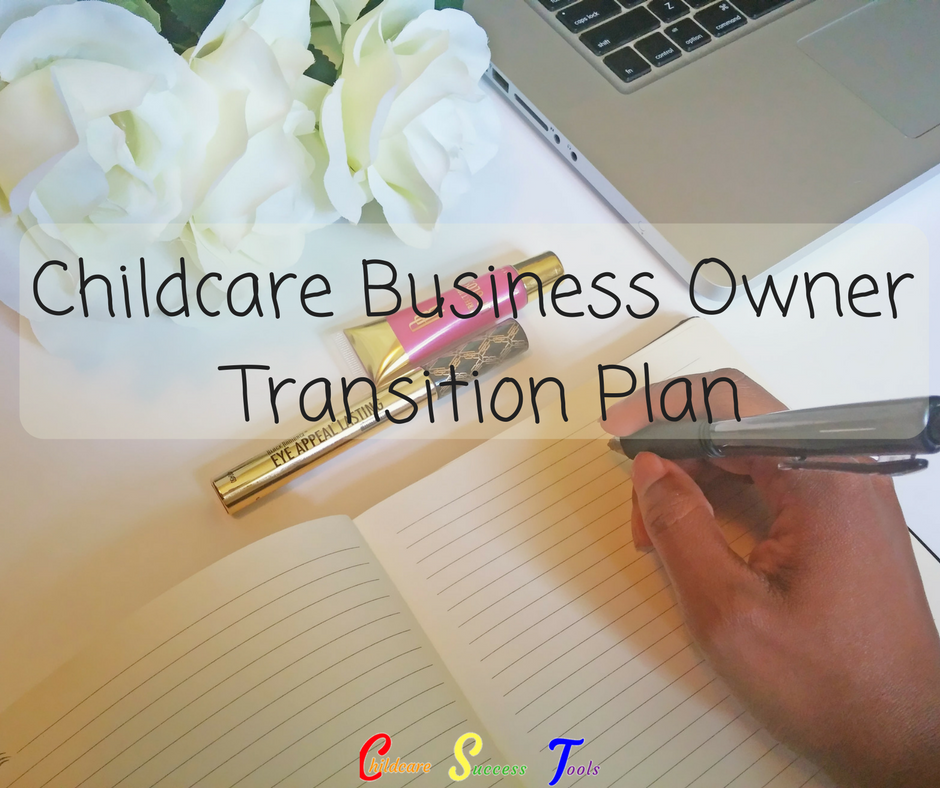 Are you trying to start a daycare business? Or maybe you currently run your business, but you don't want to work so many hours any more. Maybe you've been running your childcare business for years and you are thinking about getting out. Whatever your situation, every business owner needs a transition plan. And this includes a childcare business owner. So the question, I want to help you answer today is: Do you have a Childcare Business Owner Transition Plan in place?
And to do this, I want to cover the three different stages of a childcare business owner, and how to properly transition into these stages.
Stepping into a Childcare Business Owner Stage:

If you are in the process of opening up a childcare business, this means you are going to be doing one of two things: Quitting your 9-5, or going from no job to owning a business. The process between either two of these can be scary. If you are thinking about quitting your job, you have a lot of questions to answer like "How will I pay my bills for the first year?" or "When do I quit?" or "Can I still continue to work and open up my daycare business and do both at the same time?" Well the answers to these many questions is really left up to you and your specific situation. But if I was to give you advice on this, the best transition plan you can have is money.
One of my favorite books says that "Money Answereth All", and this is so true. Looking back on my childcare business journey, I would have saved as much money as I could before opening up my center or program. Opening up a childcare business is like having a child. And this child is always going to be needing something. Now as we all know, there is never a perfect dollar amount to save up before having a child and this goes for opening up a daycare business. So I don't want you to get all hung up and say that you can't do this because you don't' have any money to save right now. However, just from my experience, it sure makes the beginning of the ride less bumpy. So save as much as you can. And no matter your situation. Moving from a 9-5 to a business owner, or a stay at home mom, to a home provider having a little start off cash is the best transition plan you can have!



Cutting back your Weekly Hours Stage:

Once you have been running your childcare business or home for a while, you will come to a point where you are tired of working all the long hours. The point for working long hours as a business owner is to BUILD your business. But once you have gotten your program up and running you are going to want to trade in that 12 hour work day, to a nice 8 or even 6 hours, and when it's time to do this you will have to have a transition plan.
So here is my advice, and it's very simple: If you are a home provider with more than 6 children, it's time for you to hire in some help. And if you are an owner of a center, it's time for you to get an Assistant Director on board. The plan is to create systems and processes for your assistant, that is easy to follow. And do this, BEFORE you hire in this help.
When it was time for me to begin cutting back my long hour work days, I begin to document everything I did. So anything from how I greeted families upon arrival and departure, how I collected payments, or how I answered my phone, all got documented. This basically turned into my operations manual. And when it was time to hire my Assistant, it was easy for me to train her, because everything was written down. Now this process goes way deeper than that, but this is where you want to start. Document, Document and Document.
Childcare Business Owner Exit Plan Stage:
I always knew I needed an exit plan, but I never imagined I would need one at ten years of business. And so I didn't have one, and the transition from having my business to exiting it, was a train wreck! The first thing I had to come up with, was how I was going to tell my families. Then I thought about what I was going to do with myself, because that daycare business was my LIFE! But that was not even the half of it!
Getting rid of the business property, and everything in it. And the paperwork was OUTRAGEOUS!! Because you have to ensure that you properly notify every department (Local, State and Federal) to let them know your business close date. I was all over the place, and it literally took about two years to completely close it down.
So my advice to you if you are in this stage is to take a lot of time to sit down, and think about everything that has to be done and make you a list. Call all tax departments, vendors, licensing, etc. and ask them what is their process that you need to do to close your business. Most of them will have a form for you to file, and what I would do is get a copy of that form, and use this as your "check off list." You will also want to think about whether or not you are going to sale it as a childcare business or as a commercial property. Or maybe you want to hand it down to someone in your family.
And let's not forget about any retirement or social security money if you are at that age, and how your life will be financially. If you set your business up right, you should be set financially. And for those of you who are not at this stage yet, take this piece of the blog post as advice to get yourself set up financially for retirement. Because as much as we all love doing this, one day you will have to stop and move on to another chapter of life. And you just want to be prepared.
Wisdom will tell you that before you go and do anything, to have a plan. Having a Transition plan for each stage of being a Childcare Business Owner, will make this journey a beautiful and successful ride! One that will ensure you are never stressed out, when it's time to make a change!